Acuda S1 Turbo
Latest edition to the best selling Acuda Range. DONIC Acuda S1 Turbo is a precision rubber designed for accuracy at high speeds. Despite the rubber being dynamic and fast, it has perfect feel - reminiscent of earlier speed glue days. Acuda S1 Turbo - play table tennis in the fast lane. Acuda S1 Turbo is slightly softer yet faster than the Acuda S1. For advanced attacking players who play with speed and spin.
Speed
10++
Control
6-
Spin
10++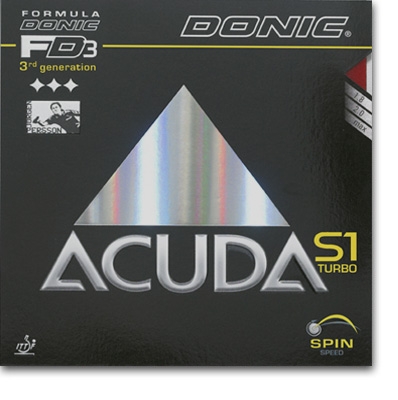 Our Price:
£35.99
Free Shipping
Recommended by:
Alexandra Scheld
3 times German Champion Ladies Double
Product Specs
Pimple in, Control 6- Speed 10++ Spin 10++, hardness - medium +, surface - spin elastic. Available in 1.8mm, 2.0mm & Max. VERY POSITIVE RESPONSE FROM DONIC AND TOPSPIN SPONSORED PLAYERS. SLIGHTLY SOFTER AND FASTER THAN ACUDA S1. TOPSPIN HIGHLY RECOMMEND THIS PRODUCT FOR ATTACKING SPEED AND SPIN FOCUSED PLAYERS.
Bat Advice
Top quality table tennis rubbers at competitive prices with our extensive range covering from championship to hobby play. Each rubber is categorized and ranges from fast and spiny to slow and controlled.