Latest News
Latest news, results and updates from the table tennis world.
English National U21 and Vetts Champions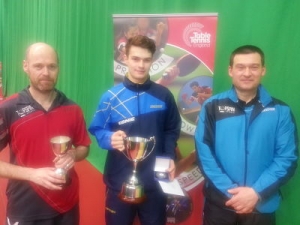 DONIC sponsored players Sam Walker and Mike Odriscoll were crowned champions on 27/02/2015 at the English National Table Tennis Championships ,Redbridge Leisure Centre, London. Sam Walker won the U21 title with a dominating performance over Helshan Weerasinghe. Mike Odriscoll beat British League team mate Lorestas in the Vetts Final. Both will be looking to continue their good form in the Men Singles over the weekend.
World Champs of Ping Pong, Ally Pally 24th - 25th Jan 2015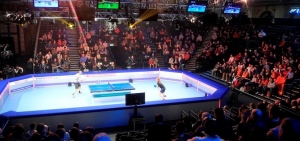 Matchroom Sport, behind PDC darts and World Snooker, is once again presenting the World Champs of Ping Pong at Alexandra Palace, London on Jan 24th and 25th 2015. Live on Sky Sports, 64 of the worlds best take part in a two-day tournament with a 100K USD prize fund. Using traditional sandpaper bats, the World Champs of Ping Pong is a throwback to early days of table tennis and aims to catapult ping pong into the big league. Tickets are available from see tickets. Come and visit us on our stand!
The Art of Ping Pong back to raise more money for BBC Children In Need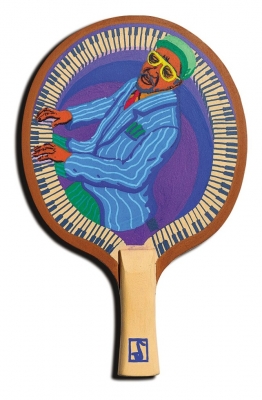 fivefootsix The Art of Ping Pong is back again following on from the success of 2013 where some of the UKs most exciting artists and illustrators created bespoke ping pong bat artworks which went on to raise over 1k at an online auction in aid of BBC Children in Need. The 2014 project features 21 artists, whos unique bats will each be exhibited at Beach London, 20 Cheshire Street, E2 6AH from 4th-16th Nov. Go to theartofpingpong.co.uk to bid online. Bats for artwork provided by Topspin.
TABLE TENNIS DONIC LEGENDS LONDON TOUR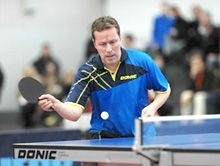 World Champion Winning table tennis legends Jan-Ove Waldner and Jorgen Persson are coming to London on 9th & 10th August 2014 as part of the DONIC Legends London presented by Topspin Sports. They will be playing as part of an amazing evening of table tennis at Wiltons music hall on Sat 9th August - more info at wiltons.org.uk. On Sunday 10th August they are playing in the Topspin Donic Legends tournament at Fusion TTC, Stockholm Road, SE16 3LP. Please contact Topspin for an entry form.
B-BATT Junior British League Champions

Topspin sponsored club BBATT won the JBL Premier Division for the 2nd year running after a commanding second weekend of performances in Lilleshall over the weekend of 8th & 9th February 2014. B-BATT team made up of Sam Mabey, Daniel Lawrence, Jack Bennett and Josh Bennett had started the weekend level on points with Wales but after a series of impressive performances had secured the title by Sunday lunchtime! Congratulations to club managers Eli Baraty and Jade Blasse on retaining the title.
World Champs of Ping coming to Ally Pally, London.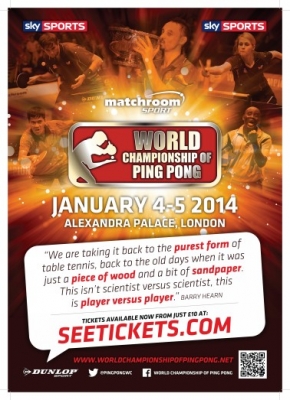 The World Championships of Ping Pong presented by Matchroom Sport are coming to Ally Pally, London on 4th & 5th January 2014. The best players from around the World will again be playing with Sandpaper Bats for 100K USD Prize Fund with all the action televised live on Sky Sports. Tickets are still available from SEE tickets with sessions starting at 12pm & 6pm on both days. Topspin are table tennis ball sponsors providing Nittaku Premium 3*** Balls and will host a trade stand during the event
Children in Need TT Bat Auction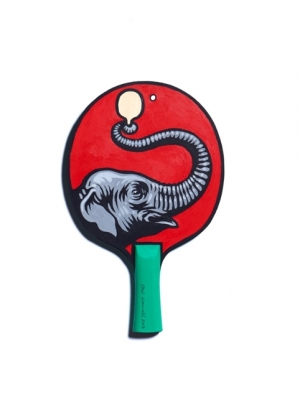 Art of Ping Pong is a collaboration between Fivefootsix and a number of the UKs most exciting designers, artists and illustrators. These bespoke bats are being auctioned off to raise money for BBC Children in Need, who work year round to make a positive difference to the lives of disadvantaged children right here in the UK. The auction is running until Friday 15th November, coinciding with the BBC televised appeal night. Check out and place a bid at www.theartofpingpong.co.uk
Good start for Topspin Ladies Prem BL Team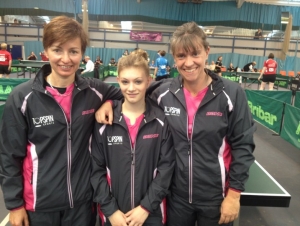 Topspin Sports Ladies Team made a good start in their 1st season in the Ladies British League Premier Division finishing 5th after the 1st weekend. In a very strong division the Topspin team made up of Emma Rose, Sanja Clements and Megan Knowles took a little while to get going losing their first two matches but then came back strongly with three draws. With Halton TTC and Topspin on 3 points and Byng Hall on 2 points the 2nd weekend of matches should prove to be very exciting!
B-BATT JUNIOR BRITISH LEAGUE CHAMPIONS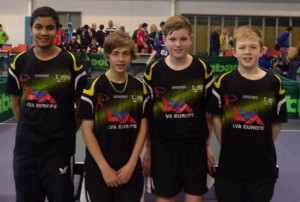 Topspin sponsored club B-BATT were crowned British junior champions after the second round of matches over the weekend of the 9th & 10 Feb 2013. Their team of Helshan Weerasinghe, Tom Jarvis & Jack Bennet were unbeaten ensuring that the took the title by 3 clear points. Even more impressive was one of their star players from the 1st weekend of matches Sam Mabey was taken ill just before the weekend and had to pull out.
Odriscoll On The Rise

Topspin sponsored player Mike Odriscoll has proven that a 20 year break is no barrier if you have the talent and application. A former European Youth runner up Odriscoll only picked up a bat again just over a year ago but has already climbed to no. 12 in the October ranking list. He is English Veterans Champion and in the recent Bristol GP defeated Darius Knight the current England no. 5. Having gone virtually straight from Juniors to Veterans who can say how high up the ranking he will rise!
Bluefire Buy 1 Get 1 Free Promo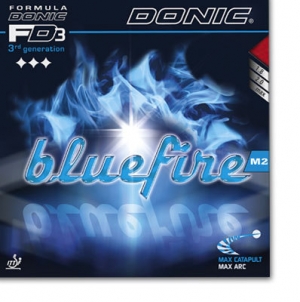 Buy 1 Bluefire M1, M2 or M3 rubber from our website and receive a free Bluefire M2 2mm rubber of the opposite colour for free with your order. Offer available on on-line orders only and only 1 free rubber can be redeemed against each customer account. Hurry promo in association with Donic only available until 19th November 2012 and while stocks last. Free rubber strictly not for resale.
BUY MENS WORLD CUP TABLES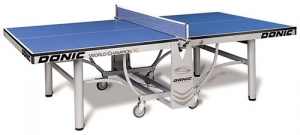 **SPECIAL OFFER** Unique oppurtunity to purchase 6 DONIC World Champion Tables 25mm Blue WITH net/post set that will be used at the Mens World Cup Table Tennis Event that is coming to Liverpool from the 28th to 30th September 2012. The tables, renowned as the best quality table tennis tables in the World, will be available for collection/delivery directly after the event in Liverpool. Special price is 743.00 GBP (a saving of 157.99 GBP on each table/net). Click into Tables to view and order.
Olympic Bronze for Ovtcharov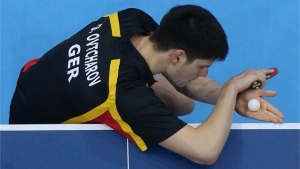 DONIC sponsored star Dimitrij Ovtcharov of Germany secured an amazing mens Singles Table Tennis bronze medal against Chih-Yuan Chuang of Chinese Taipei on Day 6 of the London 2012 Olympic Games at ExCeL. After the match Ovtcharov said -I was like in a trance.... the bronze medal is like a gold for me-. He had secured a semi final place by beating Danish star Maze in an incredible match 4-3 and then just lost out to eventual Gold medalist Zhang Jike from China in the semi final 4-1
Fusion Premier League Champions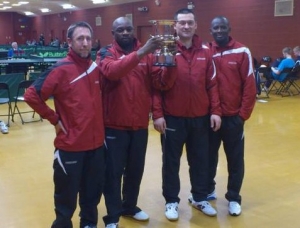 In an incredibly exciting finish to the Premier league title race Topspin Sports sponsored teams Fusion and B-Batt fought it out head to head. In the closest finish in the Premier Leagues history both teams were tied on points at the end of the last match and Fusion won the title on games difference by 1 game! The Fusion side of Sule Olaleye, Lorestas Trumpauskas, Kazeem Adeleke and Tom Cutler remained undefeated for the whole weekend and all put in star performances under intense pressure.
B-Batt and Fusion One/Two in Prem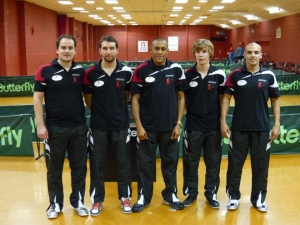 Topspin DONIC Sponsored teams B-Batt and Fusion TTC are standing in a remarkable 1st and 2nd place in the British Table Tennis Premier League. B-Batt who are based in Harefield, Herfordshire are 1 point clear of the South London club Fusion TTC. B-Batt were on sparkling form dispatching both Drumchapel Glasgow and last years champions Barrow 6-2. Fusion not wanting to be out done were equally clinical winning both their matches 8-0 against London Progress and Grantham and keeping the heat on!
TOPSPIN JANUARY SALE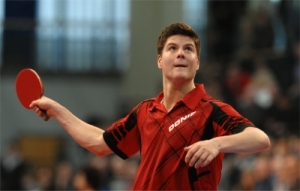 HAPPY NEW YEAR from Topspin. We have some great offers in our 2012 January Sale with the best selling Acuda rubber range reduced by 30% and also a selection of our best selling blades. Click on SALE from our homepage to see all our great offers which we hope will help you towards a successful table tennis playing 2012.
Baum European Silver Medal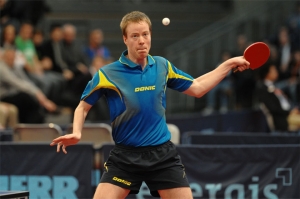 Donic sponsored player Patrick Baum emulated his fantastic performance at last years European Table Tennis Championships by once again winning a Silver medal at the 2011 European Table Tennis Championships in Poland. On the way to the final he defeated the no. 2 seed Samsonov 4 sets - 1 and was only finally stopped by the no.1 seed Timo Boll 4 - 1 in a game of incredible speed and long topspin rallies with Boll commenting he was surprised how deep Baum can bend the ball.
Robertson Bronze At British Open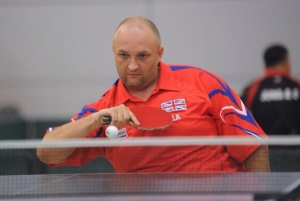 Topspin sponsored paralympic star Scott Robertson won a bronze medal in the team event of the recent British Open in Sheffield. Teamed with his training partner Tommy Urhaug from Norway they narrowly lost to 3-2 to France in the semi finals and beat Czech Republic 3-1 in the play off for bronze. Scott is training hard and hoping to continue his great form into this months European Championships in Split, Croatia from the 18th to 30th October and help secure qualification for London 2012.
Sensational Start for B-BATT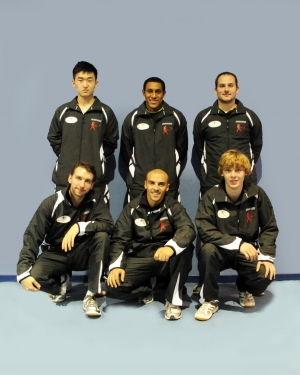 Topspin sponsored British League Premier team B-Batt Pavilion had a sensational start to their season winning all four matches over the first weekend of matches which included victories against the top three teams and leaves them 2 points clear on top. The B-Batt team has considerable strength with their no.1 player Filip Szymanski a recent winner over Adrian Crisan (world ranked 31), Luic Bobilie former European no. 2 junior and Giovanni Le Burgne current French no. 10 junior.
Ovtcharov Wins Korean Open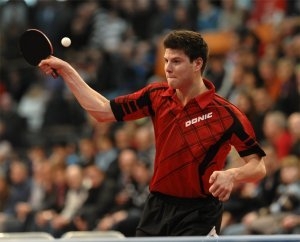 Donic sponsored 22 year old player Dimitrij Ovtcharov secured his second ITTF Pro Tour title of the year on 3rd July 2011 defeating 20 year old Lee Sang Su in the final of the KRA Korean Open. Seeded no. 5 for the tournament and currently at no. 15 in the Mens World Ranking, Ovtcharov defeated the talented Korean 4 sets 1. Having also secured victory just under month before in the Brazil Open, Ovtcharov is in the form of his life. He uses Waldner Senso Carbon blade and Coppa Speed rubbers.
Trumpauskas Comes Up Trumps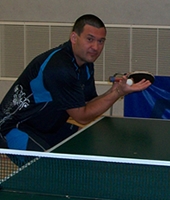 England Veteran No. 1 player in the Over 40 age category Lorestas Trumpauskas continued his outstanding season by winning the Vetts Masters event in Bristol. In the final he defeated former England International Sean Gibson in a high quality final 3 - 1. Having already won the Vetts National Championships in Sheffeild earlier in the year he is hoping to continue his winning run in the European Vetts Champs later this month. He uses Donic Acuda S1 Max rubbers and Epox Power Carbon blade.
Rising Star Hussain On The Up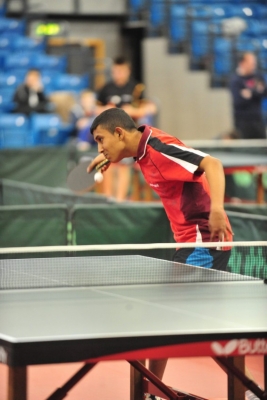 Rising young Table Tennis Star 19 year old Emran Hussain has climbed to no. 21 in the latest England Senior Ranking list having started the season at no. 45. Hussain is currently studying and training at Grantham College under the expert guidance of head coach and former Commonwealth Champion Alex Perry. Hussain grew up in the East End of London and his family home is a short walk from the Olympic Stadium. He hopes one day to represent England at an Olympic games.
About Topspin Table Tennis
Topspin Sports - Sets you up for success
Professional Table Tennis Equipment Supplier