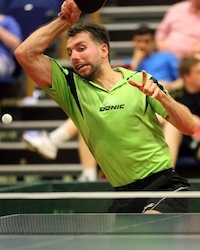 - Deposit Summer Camp + Accommodation 2019
Deposit to book place on eBatt-Topspin Summer 2019 Table Tennis Camp including 5 days training from 12th to 16th August 2019 and 5 nights accommodation @ the Harefield Academy, Middx. Full balance of £470.00 is due by 31st July 2019.
Product Specs
5 day table tennis training camp with 5 nights on site accommodation + eBatt-Topspin Camp Shirt.
Venue: Harefield Academy, Harefield, Middx, UB9 6ET
Camp dates: 12th to 16th August 2018
Camp times: 09:00 to 15:00
Accommodation:
Check in - from 6.30pm - 11th August 2019
No evening meal provided on Sunday 11th August.
Check out - 16th August 2019
Ages from 10+ welcome but table tennis standard must be a minimum of local league level or above.
Reviews of Deposit Summer Camp + Accommodation 2019

sylvain gardon | 2015-03-16 | 5 Stars

mark | 2016-12-07 | 5 Stars

mark | 2016-12-07 | 5 Stars

mark | 2016-12-07 | 5 Stars

mark | 2016-12-07 | 5 Stars
like
mark | 2016-12-07 | 5 Stars
great
john | 2018-05-18 | 5 Stars
great
john | 2018-05-18 | 5 Stars
great
john | 2018-05-18 | 5 Stars
Topspin Sports - Sets you up for success
Professional Table Tennis Equipment Supplier