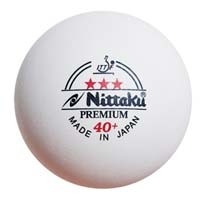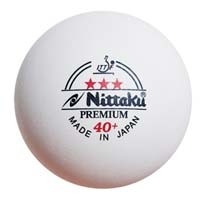 Nittaku Nittaku Premium 40+ Cell Free x12
**SALE ITEM** NITTAKU PREMIUM 40+ Plastic 3 Star Table Tennis Ball. For decades the NITTAKU Premium ball 'Made in Japan' has been known as the no. 1 table tennis ball in the World. The aim of NITTAKU was to meet these unique qualities when developing a plastic table tennis ball. The result will be no surprise to those who have played with Nittaku Table Tennis Balls: Perfect bounce of the ball. Consistent roundness and hardness. Excellent durability and highest performance.
On Sale
Save £8.96 off RRP!
Product Specs
Nittaku 40+ Premium 3*** Plastic Table Tennis Ball
Material: Plastic with Seam
Colour: White
Quantity: 4 Boxes of 3 balls (12 balls in total).
ITTF Approved
Ball of choice at European Table Tennis Championships - 2014 & 2015
Reviews of Nittaku Premium 40+ Cell Free x12
We've not yet got any reviews of this product. Would you like to write one for us?
Topspin Sports - Sets you up for success
Professional Table Tennis Equipment Supplier