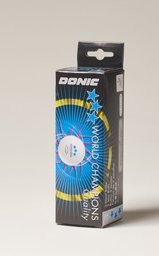 Donic DONIC P40+ *** Cell-Free x12
DONIC's new competition plastic ball, the DONIC P40+ *** is harder than its predecessor DONIC 40+ ***.
It produces a slightly higher bounce and is immediately recognizable by its distinctive sound.
It has a precise and consistent bounce and is absolutely reliable in its playing characteristics.
Product Specs
Donic P40+ 3*** Ball
1 dozen balls in 4 X packs of 3 balls.
Color: White
ITTF approved
Reviews of DONIC P40+ *** Cell-Free x12
We've not yet got any reviews of this product. Would you like to write one for us?
Topspin Sports - Sets you up for success
Professional Table Tennis Equipment Supplier