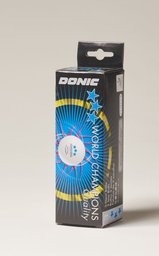 Donic DONIC P40+ *** Cell-Free x3
DONIC's new plastic ball, the DONIC P40+ *** is harder than its predecessor DONIC 40+ ***.
It produces a slightly higher bounce and is immediately recognizable by its distinctive sound.
It has a precise and consistent bounce and is absolutely reliable in its playing characteristics.
Product Specs
Donic P40+ 3*** Ball
Pack of 3 balls
White plastic ball.
Reviews of DONIC P40+ *** Cell-Free x3
excellent
alan carr | 2020-03-06 | 5 Stars
Topspin Sports - Sets you up for success
Professional Table Tennis Equipment Supplier