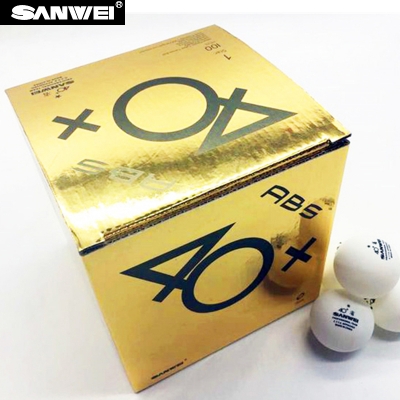 Sanwei Sanwei ABS 1* 40+ Training Balls x100
Sanwei ABS 1 Star Training Ball
High quality plastic table tennis training ball made out of new ABS material.
Excellent Roundness, Bounce and long durability.
Great quality/price ratio.
Balls are white and come in cartons of 100 balls.
On Sale
Save £15 off RRP!
Product Specs
SANWEI ABS 1 Star ABS Plastic Training Table Tennis ball.
Plastic training ball made of ABS Material.
Colour: White
Carton size: 100 balls
Made in China.
Excellent quality training ball, with good bounce, roundness and durability.
Highly recommended.
Reviews of Sanwei ABS 1* 40+ Training Balls x100
amazingly good ball. i did not realise they were not 3* star balls until i was told they are training balls! that good.
dyates | 2018-03-16 | 5 Stars
Topspin Sports - Sets you up for success
Professional Table Tennis Equipment Supplier