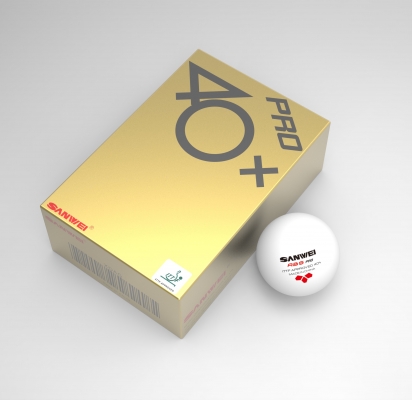 Sanwei Sanwei ABS 40+ Pro 3 Star Ball x6
Sanwei ABS 40+ Pro 3 Star Table Tennis Ball.
Recently selected as Table Tennis England official competitions ball for 2019-20 Season for 2nd year in a row.
World Championship of Ping Pong event ball 2019.
High quality ITTF approved 3*** Table Tennis Balls made of ABS material with seam.
Outstanding ball performance, stable bounce, excellent durability, distinctive sound and logo design.
Great price/durability/performance ratio.
Balls are white in packs of 6 balls.
Topspin staff recomme
Product Specs
Sanwei ABS 40+ Pro 3 Star Table Tennis Ball
ITTF Approved
Colour: White
Quantity; Pack contains 6 balls
Material: ABS with Seam
Performance: High performance ball with stable bounce and excellent durability.
Table Tennis England official ball - 2019-20 & 2018-19 season.
World Championship of Ping Pong official ball - 2019
Competitions being used at include: Senior & Junior English national championships, British League, County Championships & Cadet & National Junior League.
Reviews of Sanwei ABS 40+ Pro 3 Star Ball x6
good
jp | 2018-08-16 | 5 Stars
great product
williamsstevenf42@gmail.com | 2018-10-16 | 5 Stars

johnnybarden6 @icloud.com | 2019-03-02 | 5 Stars
Topspin Sports - Sets you up for success
Professional Table Tennis Equipment Supplier