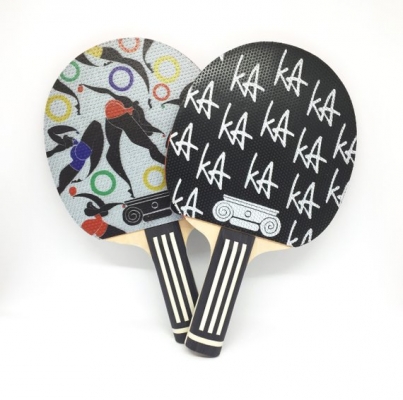 Speed
5+
Control
7
Spin
6+
- Art of Ping Pong Bat
Art of Ping Pong Table Tennis Bat
Specially commissioned table tennis bat produced by the Art of Ping Pong and artist Kelly Anna.
Double sided print onto short pimpled rubber.
Enjoy the artwork and play ping pong at the same time!
Product Specs
-Art of Ping Pong Table Tennis Bat
Short pimpled rubber with print.
Different print on each side of bat and custom produced straight handled blade.
Free bat case with every bat purchase over £50
When you purchase any of our bat worth over £50 we're giving away a free bat case!
Reviews of Art of Ping Pong Bat
We've not yet got any reviews of this product. Would you like to write one for us?
Topspin Sports - Sets you up for success
Professional Table Tennis Equipment Supplier