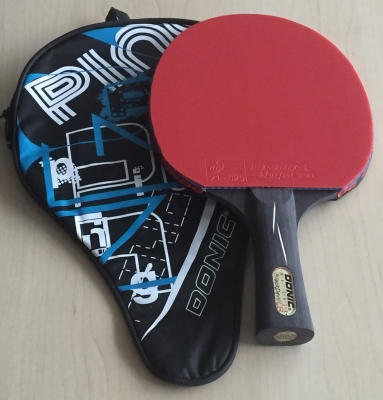 Speed
10++
Control
6
Spin
10++
Donic Waldner Black Devil M1 Bat
Waldner Black Devil with Bluefire M1 Rubbers. Recommended for players who require optimum speed and spin.
Bat is made up of Donic Black Devil Blade with Bluefire M1 Rubbers Red and Black.
Player recommendation: For players who play an aggressive game with fast topspin and smashes and heavy spin serves. Blade is made of Balsa Wood which results in a very light weight blade and provides great feeling along with the speed.
On Sale
Save £70.97 off RRP!
Product Specs
Preprepared bat is made up of Donic Black Devil Table Tennis Blade - Weight 80g - 7 ply - Speed 10- Control 7 & Donic Bluefire M1 Table Tennis Rubbers -Red & Black - Speed 10++ Spin 10++ Control 6
Free bat case with every bat purchase over £50
When you purchase any of our bat worth over £50 we're giving away a free bat case!
Reviews of Waldner Black Devil M1 Bat

p.bhojani1 | 2018-12-03 | 4 Stars
Topspin Sports - Sets you up for success
Professional Table Tennis Equipment Supplier