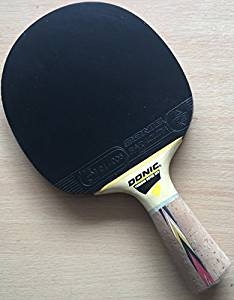 Speed
9
Control
6
Spin
10++
Donic PERSSON DOTEC OFF BARACUDA BAT
Pre made up Persson Dotec OFF Blade with Baracuda Rubbers + Free Bat Case. Recommended for players who like to play with heavy topspin. Bat is made up of Persson Dotec OFF Blade with a cork handle which has been specially shaped to sit comfortably in the hand of either the left handed or right handed player. Baracuda Rubber which is an extremely spiny rubber with built in high arc for heavy topspin.
Product Specs
Bat is pre made up and includes bat edging tape & free bat case. Blade: Donic Persson Dotec OFF - Rubbers: Donic Baracuda - Red & Black.
Free bat case with every bat purchase over £50
When you purchase any of our bat worth over £50 we're giving away a free bat case!
Reviews of PERSSON DOTEC OFF BARACUDA BAT

p.bhojani1 | 2016-11-26 | 5 Stars

p.bhojani1 | 2016-11-26 | 5 Stars

p.bhojani1 | 2016-11-26 | 5 Stars

prakashbhojani@hotmail.co.uk | 2016-11-26 | 5 Stars

prakashbhojani@hotmail.co.uk | 2016-11-26 | 5 Stars

prakashbhojani@hotmail.co.uk | 2016-11-26 | 5 Stars

prakashbhojani@hotmail.co.uk | 2016-11-26 | 5 Stars

prakashbhojani@hotmail.co.uk | 2016-11-26 | 4 Stars

p.bhojani1 | 2018-03-30 | 5 Stars
dotec persson
p.bhojani1 | 2018-03-30 | 5 Stars
dotec persson
p.bhojani1 | 2018-03-30 | 4 Stars
Topspin Sports - Sets you up for success
Professional Table Tennis Equipment Supplier