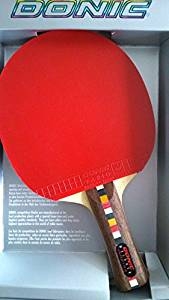 Speed
10
Control
6
Spin
10++
Donic Waldner Allplay Vario Bat
Pre made up bat Waldner Allplay Blade with Vario Rubbers + Free Bat Case.** Recommended for players who are looking for a reasonably priced advanced level bat that suits all types of controlled attacking playing styles. Donic Waldner Allplay Blade has great control and good speed qualities. Donic Vario rubbers have excellent all-round speed, spin and ball control characteristics.
Product Specs
Bat is pre made up and includes bat edging tape & free bat case. Blade: Waldner Allplay - Rubbers: Red & Black Vario.
Free bat case with every bat purchase over £50
When you purchase any of our bat worth over £50 we're giving away a free bat case!
Reviews of Waldner Allplay Vario Bat
Topspin Sports - Sets you up for success
Professional Table Tennis Equipment Supplier