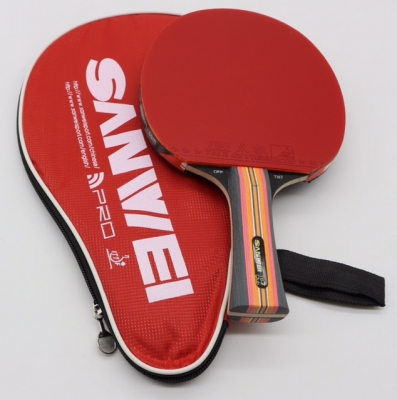 Speed
8
Control
8
Spin
7+
Sanwei Sanwei Ts7 Club Bat
Sanwei TS7 Club Bat with Case
Highly recommended for club players and serious social players!
Bat is made up of Sanwei T88 Semi Tacky Taiji T88 Table Tennis Rubbers. Red rubber is fast and spiny for F/hand attack and the Black rubber is slightly slower with increased control for B/hand play. Rubbers are ITTF approved.
The TS7 blade is a high quality 5 ply blade made up of Black Ayous outer surface, Spruce Inner layer, and Ayous Core.
Distinctive and fashionable design.
Comes with case.
Product Specs
Sanwei TS7 Club Table Tennis Bat with Case
Highly recommended premium table tennis bat.
Rubbers - Sanwei Taiji T88 - Red & Black
Sponge - Medium hard - max thickness
Very spiny Chinese semi tacky rubbers.
Red rubber - fast and spiny for f/hand attack
Black rubber - slightly slower for b/hand control.
Blade - High quality Sanwei Offensive Blade
5 ply blade made of Black Ayous Outer surface, spruce inner layers and Ayous Core.
Rubbers ITTF Approved
Stylish Red Sanwei Bat Case
Free bat case with every bat purchase over £50
When you purchase any of our bat worth over £50 we're giving away a free bat case!
Reviews of Sanwei Ts7 Club Bat
great
pauline tilyard | 2018-03-16 | 5 Stars
very good all round bat for juniors with some limited experience
rob.tabletennis@ntlworld.com | 2018-12-08 | 5 Stars
new bat with rubbers
prakashbhojani@hotmail.co.uk | 2021-09-25 | 5 Stars
Topspin Sports - Sets you up for success
Professional Table Tennis Equipment Supplier