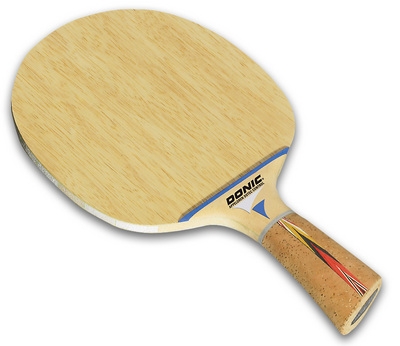 Donic Appelgren DOTEC
**SALE ITEM** The new APPELGREN DOTEC CONTROL blade is the last word in control and accuracy. This blade is more easily controlled, and has more feel, than the Waldner DOTEC AR. It is ideal for the player who wants more ball control without losing the speed necessary for attacking. The DOTEC technology produces optimum control and exceptional feel.
To check out our professional bat range CLICK HERE
On Sale
Save £23 off RRP!
Product Specs
Donic Appelgren Dotec Control Table Tennis Blade
Control 9 Speed 7+,
Weight 70G,
7 ply,
Elasticity Nearly Stiff.
Available with either right or left handed grip.
The innovative DOTEC RANGE handle is slightly curved in such a way to suit the grip of either a left handed or right handed player.
Blade Advice
Getting the right table tennis blade to suit your style of play is essential to enable you to play your best table tennis. We recommend reading our online guide on some of the factors to consider when choosing your table tennis blade
Reviews of Appelgren DOTEC

prakashbhojani@hotmail.co.uk | 2016-11-26 | 5 Stars
Topspin Sports - Sets you up for success
Professional Table Tennis Equipment Supplier