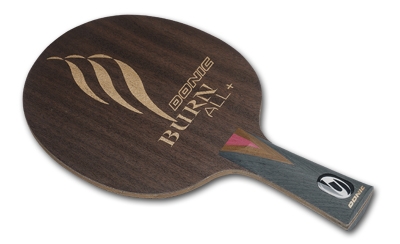 Donic Burn AR+
Donic Burn AR+
The thermic treatment of the veneers makes for extremely high stability comparable to features of high-quality tropical woods. The blades are exposed to a temperature of 200 degrees centigrade for twenty four hours. This process hardens the wood and removes any humidity. The Allround Plus Version of the DONIC Burn blade series offers ease of control and feel. The thinner Kiri centre ply of the DONIC Burn AR+ offers greater control and at 80g the blade is very light.
To check out our professional bat range CLICK HERE
Product Specs
Donic Burn AR+ Table Tennis Blade
Thermic Burned Technology.
5-ply. 1+5ply: Mahagony 2+4ply: Awan Centre ply: Kiri.
Weight: 80g.
Elasticity: speed elastic.
Speed 8
Control 8+.
Blade Advice
Getting the right table tennis blade to suit your style of play is essential to enable you to play your best table tennis. We recommend reading our online guide on some of the factors to consider when choosing your table tennis blade
Topspin Sports - Sets you up for success
Professional Table Tennis Equipment Supplier