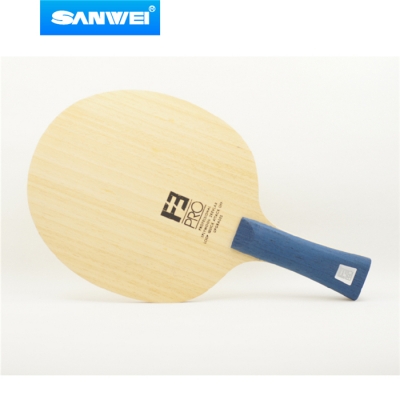 Sanwei F3 PRO
Sanwei F3 Pro Table Tennis Blade
F3 Pro is an offensive blade recommended for modern attack minded topspin players. It has great playing properties and works very well with the new plastic balls.
The veneer structure strongly resembles classic Japanese 5+2 blades. Sanwei's developers have combined five wood veneers with two arylate carbon plies. The result is great speed for all offensive strokes but thanks to the ayous outer veneers the touch and ball feeling is still relatively soft.
To check out our professional bat range CLICK HERE
On Sale
Save £18 off RRP!
Product Specs
Sanwei F3 Pro Table Tennis Blade
Speed 10 Control 7+
Category: OFF
Weight: 90 Grams
Blade length: 15.7cm
Blade widht: 14.9cm
Blade thickness: 6.4mm
Plys: 7 ply made up of Ayous and Arylate Carbon
Blade Advice
Getting the right table tennis blade to suit your style of play is essential to enable you to play your best table tennis. We recommend reading our online guide on some of the factors to consider when choosing your table tennis blade
Reviews of F3 PRO
We've not yet got any reviews of this product. Would you like to write one for us?
Topspin Sports - Sets you up for success
Professional Table Tennis Equipment Supplier