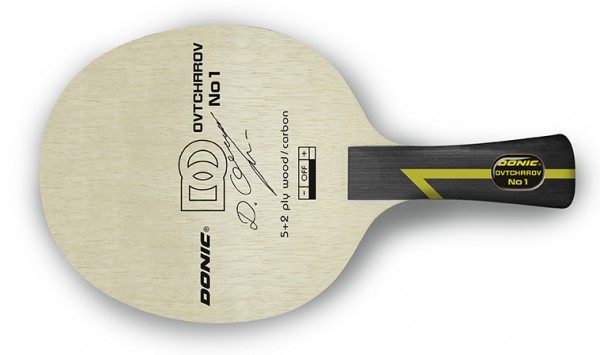 Donic Donic Ovtcharov No. 1
**NEW Season 2018/19**30% OFF** Donic Ovtcharov No. 1 Table Tennis Blade
This blade has a similar ply formation to Ovtcharov No. 1 Senso but is slightly heavier. In contrast to Ovtcharov No. Senso the handle does not have the Senso technology. The weight distribution is therefore different, and the blade appears to be more balanced. The careful production with the combination of high class Acryl Carbon plies guarantee a blade that is absolutely top class.
To check out our professional bat range CLICK HERE
On Sale
Save £34 off RRP!
Product Specs
Donic Ovtcharov No. 1 Table Tennis Blade
Category: OFF-/OFF
Ply: 7-ply (5+2 Acryl Carbon)
Weight: About 90g
Handle type: Straight or concave
Elasticity: nearly stiff
Speed: 9+
Control: 8
Blade Advice
Getting the right table tennis blade to suit your style of play is essential to enable you to play your best table tennis. We recommend reading our online guide on some of the factors to consider when choosing your table tennis blade
Reviews of Donic Ovtcharov No. 1
Topspin Sports - Sets you up for success
Professional Table Tennis Equipment Supplier