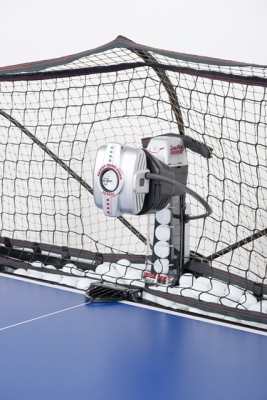 Newgy Robo Pong 3050XL
Newgy Robo-Pong 3050XL Digital table tennis robot is a game changer! It revolutionizes the way
you can train and practice! It was developed to create the most human-like playing and
training experience. The life-like features enable you to perfectly simulate any opponent from the recreational player to the professional table tennis athlete. The head has a 2 wheeled ball thrower enabling the robot to seamlessly switch from backspin to topspin.
Product Specs
Newgy Robo Pong 3050XL Robot
Easy-to-use Newgy APP and Bluetooth technology allows you to navigate easily with the simple touch of a button.
2-wheeled ball thrower (w/oscillation) - 2 throw wheels with independently programmed motors spin forward and/or backward to achieve true separation of spin and speed, while producing a wide variety and combination of spins.
Integrated recycling net for continuous play.
Delivery via DPD Tracked
2 year warranty
Reviews of Robo Pong 3050XL
robo pong 2055
arikps@msn.com | 2019-02-11 | 5 Stars
Topspin Sports - Sets you up for success
Professional Table Tennis Equipment Supplier