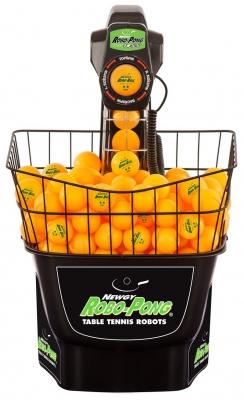 Newgy Newgy Robo Pong 1055
Newgy Robo Pong 1055 Digital table tennis robot
- Identical in every way to the Robo-Pong 2055 except it has a Ball Bucket with Extender Cage for 200 balls instead of a Recycling Net System.
- 64 pre-programmed drills for various playing level
- Delivery with 48 DONIC Coach P40+ 2-star balls
- All replacement parts obtainable in the Service-Centre
Product Specs
ROBO-PONG 1055 has been fitted with the latest electronics and software, giving it more accuracy, reliability and speed than its predecessor the ROBO-PONG 1050
The affordable alternative to Robo-Pong 2055. Identical in every way except it doesn't have the Recycling Net System.
Purchase the inexpensive Versa Net separately for ball capture and manual recycling. Or later on, upgrade to full 2055 capabilities with the Recycling Net Upgrade Kit.
Reviews of Newgy Robo Pong 1055
We've not yet got any reviews of this product. Would you like to write one for us?
Topspin Sports - Sets you up for success
Professional Table Tennis Equipment Supplier