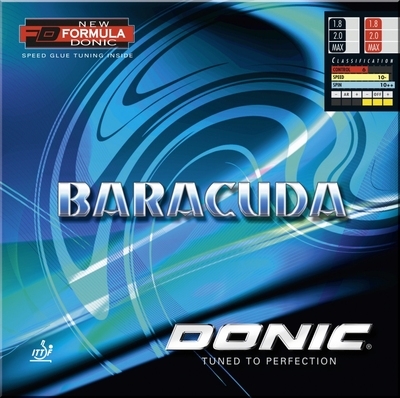 Speed
10
Control
6
Spin
10++
Donic Baracuda
Donic Baracuda - the rubber with vicious spin!
The new FORMULA DONIC BARACUDA rubber with inbuilt speed glue effect produces fantastic spin. With DONIC BARACUDA the ball leaves the blade in a conspicuously higher arc, giving considerably more spin. The increased rotation of the ball stabilises the flight and increases speed. The results are convincing after a few hours of training to become used to this modern rubber. Accuracy of placement is visibly improved even for top players.
Product Specs
Donic Baracuda Table Tennis Rubber
Pimple in,
Control: 6
Speed:10
Spin:10++
Hardness - Medium,
Surface - Spin Elastic.
Rubber Advice
Along with your choice of table tennis blade your choice of table tennis rubber determines the playing characteristics of your bat. There is a vast selection of table tennis rubbers available on the market and below are some of the factors that may be worth considering before choosing your table tennis rubbers
Reviews of Baracuda

mirodanadzhiev@gmail.com | 2015-02-12 | 5 Stars
Topspin Sports - Sets you up for success
Professional Table Tennis Equipment Supplier