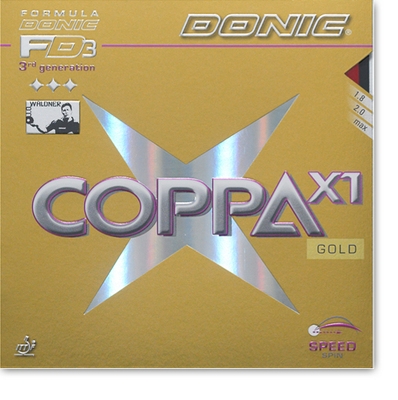 Speed
10
Control
6
Spin
10+
Donic Coppa X1 Gold
Coppa X1 has a medium hard sponge with fantastic ball control for such a fast and spinny rubber. The precision and control of COPPA X1 is second to none. The ideal rubber for most attacking players. Basic character: fast high precision spinny rubber, perfect touch. Players style: offensive with fast topspin, half-distance play.
Product Specs
Donic Coppa X1 Gold Rubber
Control 6
Speed 10
Spin 10+,
Hardness Medium +,
Surface Spin Elastic.
Rubber Advice
Along with your choice of table tennis blade your choice of table tennis rubber determines the playing characteristics of your bat. There is a vast selection of table tennis rubbers available on the market and below are some of the factors that may be worth considering before choosing your table tennis rubbers
Topspin Sports - Sets you up for success
Professional Table Tennis Equipment Supplier