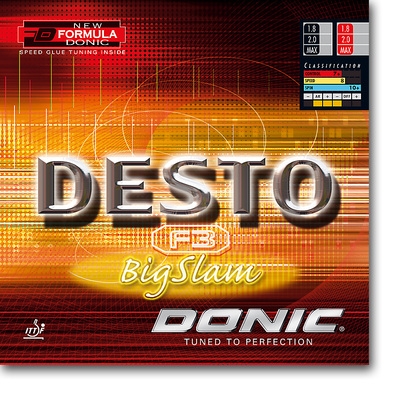 Speed
8+
Control
7+
Spin
10+
Donic Desto F3 Big Slam
Donic Desto F3 Big Slam
Big Slam is somewhat softer, but not significantly slower than its successful sibling DESTO F3. It has the same amazingly simple ball control, but gives the same effect as optimum speed glue. The sound of speed gluing has been captured in F3 BigSlam rubbers. F3 BigSlam generates a loud crack when you hit the ball. This is the loudest DESTO FORMULA rubber that DONIC has ever produced.
Product Specs
Donic Desto Big Slam Table Tennis Rubber
Rubber type: Pimple In,
Category: Control 7+ Speed 8 Spin 10+,
Hardness of sponge: Soft,
Surface - Spin Elastic.
Recommended for counter attacking and blockers who also like to play with Spin! Makes a very satisfying loud crack when playing smashes!
Rubber Advice
Along with your choice of table tennis blade your choice of table tennis rubber determines the playing characteristics of your bat. There is a vast selection of table tennis rubbers available on the market and below are some of the factors that may be worth considering before choosing your table tennis rubbers
Reviews of Desto F3 Big Slam
Topspin Sports - Sets you up for success
Professional Table Tennis Equipment Supplier