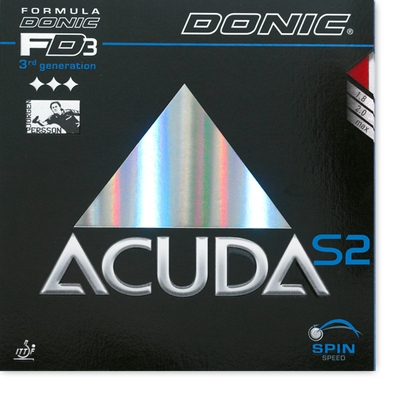 Speed
9+
Control
7
Spin
10++
Donic Acuda S2
Donic Acuda S2 - The ideal rubber for attacking players who previously used soft rubbers with speed glue. ACUDA S2 is a fast rubber with a medium soft large pored sponge. This produces fast speeds and has a uniquely loud sound. ACUDA S2 is well suited both for close to the table and away from the table game. It will give an advantage in topspin/topspin duels. This rubber is particularly enjoyable to play with because of its precise feel.
Product Specs
Donic Acuda S2 Table Tennis Rubber
Category: pimple in,
Rating: Spin 10++, Speed 9+, Control 7,
sponge hardness: medium -,
Rubber type: surface spin elastic.
Topspin highly recommend this rubber for attacking players who like to play with medium soft rubbers.
One of our best selling rubbers.
Rubber Advice
Along with your choice of table tennis blade your choice of table tennis rubber determines the playing characteristics of your bat. There is a vast selection of table tennis rubbers available on the market and below are some of the factors that may be worth considering before choosing your table tennis rubbers
Reviews of Acuda S2
We've not yet got any reviews of this product. Would you like to write one for us?
Topspin Sports - Sets you up for success
Professional Table Tennis Equipment Supplier