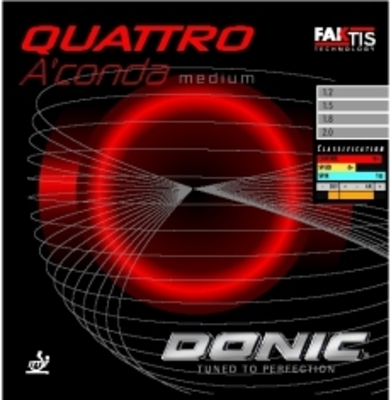 Speed
6-
Control
9+
Spin
10
Donic Quattro Aconda Medium
Quattro Aconda Medium
Softer rubber produces more backspin. The DONIC QUATTRO A'CONDA with FAKTIS-Technology. DONIC QUATTRO A'CONDA MEDIUM is highly recommended for all-round play and aggressive defending. Perfect for all types of spin variations.
Product Specs
Donic Quattro Aconda Medium
Pimple In,
Spin 10 Speed 6- Control 9+,
Hardness Medium-,
Surface Control Elastic.
Rubber Advice
Along with your choice of table tennis blade your choice of table tennis rubber determines the playing characteristics of your bat. There is a vast selection of table tennis rubbers available on the market and below are some of the factors that may be worth considering before choosing your table tennis rubbers
Reviews of Quattro Aconda Medium
We've not yet got any reviews of this product. Would you like to write one for us?
Topspin Sports - Sets you up for success
Professional Table Tennis Equipment Supplier