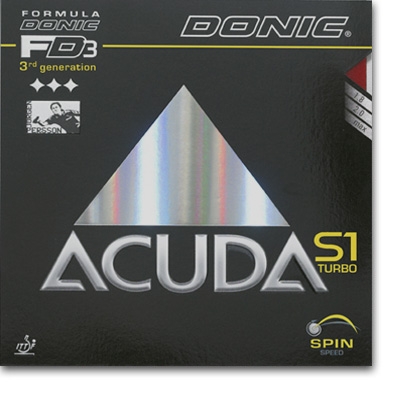 Speed
10++
Control
6-
Spin
10++
Donic Acuda S1 Turbo
**SALE** Latest edition to the best selling Acuda Range. DONIC Acuda S1 Turbo is a precision rubber designed for accuracy at high speeds. Despite the rubber being dynamic and fast, it has perfect feel - reminiscent of earlier speed glue days. Acuda S1 Turbo - play table tennis in the fast lane. Acuda S1 Turbo is slightly softer yet faster than the Acuda S1. For advanced attacking players who play with speed and spin.
On Sale
Save £15 off RRP!
Product Specs
Pimple in,
Control 6- Speed 10++ Spin 10++,
hardness - medium +,
surface - spin elastic.
Available in 1.8mm, 2.0mm & Max.
Popular rubber with our sponsored players.
TOPSPIN RECOMMENDS THIS PRODUCT FOR ATTACKING SPEED AND SPIN FOCUSED PLAYERS.
Rubber Advice
Along with your choice of table tennis blade your choice of table tennis rubber determines the playing characteristics of your bat. There is a vast selection of table tennis rubbers available on the market and below are some of the factors that may be worth considering before choosing your table tennis rubbers
Reviews of Acuda S1 Turbo
Topspin Sports - Sets you up for success
Professional Table Tennis Equipment Supplier