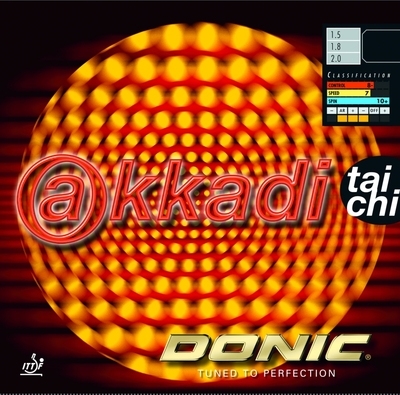 Speed
7
Control
8-
Spin
10+
Donic Akkadi Taichi
Donic Akkadi Taichi
The very grippy top surface of the DONIC Akkadi TAICHI ensures maximum spin and rotation to a level never before experienced. This is the reason why so many of the world's top ranked Asian players play with this black rubber on the forehand. Due to its special black sponge the black Akkadi TAICHI is a bit harder and stiffer than the red version. The red Akkadi TAICHI is more elastic and, thanks to its Japanese sponge, produces an even better bounce of the ball.
Product Specs
Donic Akkadi Taichi Table Tennis Rubber
Pimple In
Control 8 - Speed 7 Spin 10+
hardness Medium +
surface Sticky Elastic.
Recommended for all round players who like a tacky rubber and a lot of spin.
Rubber Advice
Along with your choice of table tennis blade your choice of table tennis rubber determines the playing characteristics of your bat. There is a vast selection of table tennis rubbers available on the market and below are some of the factors that may be worth considering before choosing your table tennis rubbers
Reviews of Akkadi Taichi
We've not yet got any reviews of this product. Would you like to write one for us?
Topspin Sports - Sets you up for success
Professional Table Tennis Equipment Supplier