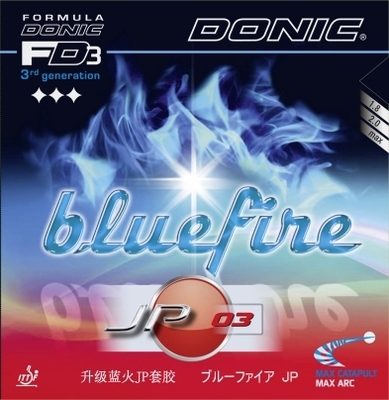 Speed
9+
Control
7+
Spin
10++
Donic Bluefire JP 03
The Japanese have influenced an outstanding rubber development "Bluefire" which has been hugely succesful since it's launch in 2012. The latest development is the Bluefire JP01 and Bluefire JP03. This is a new type of pimpled rubber in combination with the proven, dynamic blue sponge but with a somewhat finer pored structure. This lends the rubber sensational feel, with maximum catapult and a very high arc of the ball. Very grippy, taut but elastic top surface.
On Sale
Save £11 off RRP!
Product Specs
DONIC Bluefire JP 03
Sponge Hardness: Soft+
Surface: Spin Elastic
Thickness: 1.8mm, 2.0mm or Max
Type: Pimple In Rubber
Playing characteristics: Extremely grippy, taut, though elastic top surface rubber combined with a softer sponge. Ensures outstanding feeling with maximum control.
Recommended for attackers as well as power-allround players who require maximum control to return the ball under pressure in any situation.
Rubber Advice
Along with your choice of table tennis blade your choice of table tennis rubber determines the playing characteristics of your bat. There is a vast selection of table tennis rubbers available on the market and below are some of the factors that may be worth considering before choosing your table tennis rubbers
Reviews of Bluefire JP 03
Topspin Sports - Sets you up for success
Professional Table Tennis Equipment Supplier