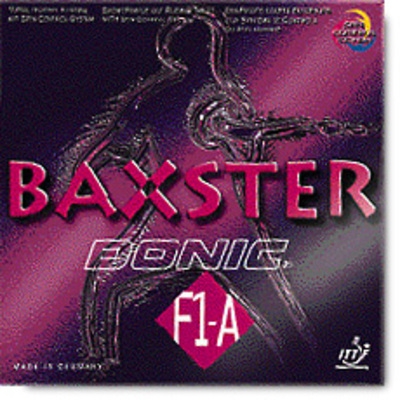 Speed
9+
Control
5
Spin
-
Donic Baxster F1A
Pimples out in FORMULA DONIC technology. The DONIC pimple out programme is completed with DONIC BAXSTER F1-A a fast pimple out rubber sheet in FORMULA DONIC technology. The typical softness of the sponge gives a superb feeling for the ball. The BAXSTER F1-A masters ball control in slow rallies, yet gives explosive power for fast strokes. This is the result of the integrated molecular tension of FORMULA DONIC.
Product Specs
Donic Baxster F1A Table Tennis Rubber
Pimple out,
Control: 5
Speed: 7
Trouble Effect 6+
Hardness - Medium,
Surface - Short Pimples
Rubber Advice
Along with your choice of table tennis blade your choice of table tennis rubber determines the playing characteristics of your bat. There is a vast selection of table tennis rubbers available on the market and below are some of the factors that may be worth considering before choosing your table tennis rubbers
Reviews of Baxster F1A
We've not yet got any reviews of this product. Would you like to write one for us?
Topspin Sports - Sets you up for success
Professional Table Tennis Equipment Supplier