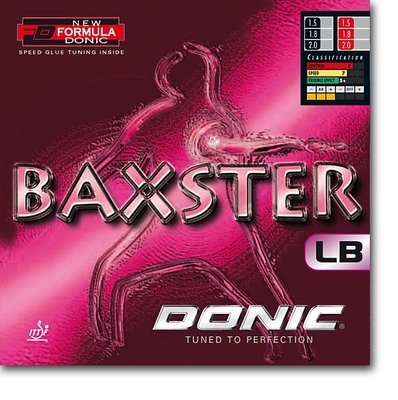 Donic Baxster LB
Donic Baxster LB - The most striking feature of this latest innovation in the classic series with short pimples from DONIC is its enormous variety. It is very easy to play dynamic blocks and counter attacks due to the NEW FORMULA DONIC sponge with high tension. The BAXTER LB offers great advantages, due to its high control for returning serves as well as the possibility of adding rotation and spin by using a good technique, and generating a twist by the flick of the wrist.
Product Specs
Donic Baxster LB Table Tennis Rubber
Pimples Out,
Control 8 Speed 7 Trouble Effect 5+,
hardness Medium,
surface Pimples Out.
Rubber Advice
Along with your choice of table tennis blade your choice of table tennis rubber determines the playing characteristics of your bat. There is a vast selection of table tennis rubbers available on the market and below are some of the factors that may be worth considering before choosing your table tennis rubbers
Topspin Sports - Sets you up for success
Professional Table Tennis Equipment Supplier