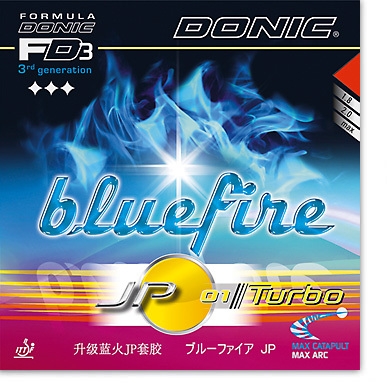 Speed
10+
Control
6+
Spin
10+++
Donic Bluefire JP 01 Turbo
**SALE ITEM** Turbo version of the popular Bluefire JP 01 rubber. Similar sponge hardness to JP 01 (47,5°) but with increased dynamic. Open-pored sponge and Japanese influenced top sheet. Recommended for offensive players who also require great feeling. We've received very positive feedback from our customers and sponsored players that the rubber is excellent for attacking players.
On Sale
Save £17.49 off RRP!
Product Specs
Donic Bluefire JP 01 Turbo Table Tennis Rubber
Control 6+ Speed 10+ Spin 10+++
Sponge hardness: medium + 47.5°
Sponge thickness: 2,0/max
Top surface: spin-elastic
Highly recommended from the Topspin Team for attacking players who require speed, spin and great ball arc.
Rubber Advice
Along with your choice of table tennis blade your choice of table tennis rubber determines the playing characteristics of your bat. There is a vast selection of table tennis rubbers available on the market and below are some of the factors that may be worth considering before choosing your table tennis rubbers
Reviews of Bluefire JP 01 Turbo

xz | 2017-08-03 | 5 Stars

xz | 2017-08-03 | 5 Stars
Topspin Sports - Sets you up for success
Professional Table Tennis Equipment Supplier