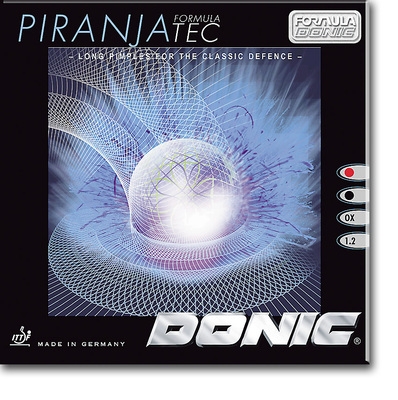 Donic Piranja Formula TEC
**SALE ITEM** Classic defenders are a rarity nowadays and its becoming more difficult for them to find the right equipment since the introduction of the 40 mm ball. All this changed when DONIC introduced their Formula DONIC technology into a long pimpled rubber. DONIC Piranja Formula Tec is soft, very elastic, with excellent gripping qualities. The DONIC Piranja Formula Tec enables the player to impart far more backspin against topspin than has been possible with other current rubber technology.
On Sale
Save £11 off RRP!
Product Specs
Long Pimples,
Control 7- Speed 3 Spin 2 - 9 + Trouble Effect 8, hardness Medium -,
surface Long Pimples.
Recommended for defensive backspin players who want maximum spin reversal against topspin.
Rubber Advice
Along with your choice of table tennis blade your choice of table tennis rubber determines the playing characteristics of your bat. There is a vast selection of table tennis rubbers available on the market and below are some of the factors that may be worth considering before choosing your table tennis rubbers
Reviews of Piranja Formula TEC
We've not yet got any reviews of this product. Would you like to write one for us?
Topspin Sports - Sets you up for success
Professional Table Tennis Equipment Supplier