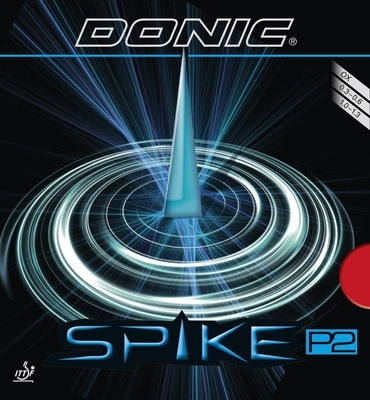 Donic Spike P2
**NEW 2015/16** Donic Spike P2 is a new long pimpled table tennis rubber that owes its unique playing qualities to a combination of an extremely soft sponge and the specially developed long pimpled top surface. Spike P2's soft sponge increases control when backspinning close to the table and facilitates surprise attack and variation, which can disturb the opponent.
This new rubber was developed together with MASATO SHIONO from Japan, one of the best defenders in the world.
Product Specs
DONIC Spike P2 Table Tennis Rubber
Top surface: long pimples
Sponge hardness: soft
Thickness: ox (without sponge), 0,3 – 0,6, 1,0 – 1,3
Unique soft sponge & best possible control.
Specially structured long pimpled to surface rubber
Good for defence and backspin close to the table
Specially designed for the modern defender
It is possible to block topspin close to the table
Rubber Advice
Along with your choice of table tennis blade your choice of table tennis rubber determines the playing characteristics of your bat. There is a vast selection of table tennis rubbers available on the market and below are some of the factors that may be worth considering before choosing your table tennis rubbers
Reviews of Spike P2
We've not yet got any reviews of this product. Would you like to write one for us?
Topspin Sports - Sets you up for success
Professional Table Tennis Equipment Supplier