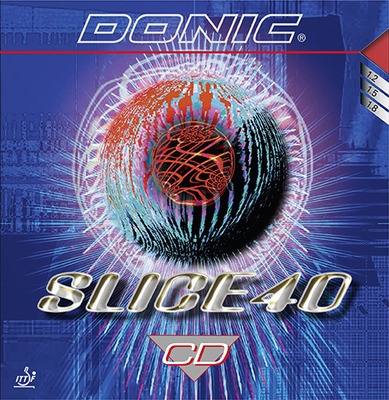 Speed
5-
Control
10+
Spin
10+
Donic Slice 40 CD
Defensive players that utilise lots of backspin and occasionally employ a disruptive style of play.
Very soft with a good feel, grip, and control. The SLICE rubbers are perfect for defensive players: These incredibly tacky rubbers allow players to hit the ball with maximum levels of backspin and while retaining excellent control. However, the DONIC SLICE 40 CD is also an option for spin-oriented allround and attacking players that want to play with control and maximum levels of spin.
Product Specs
Control: 10+
Speed: 5-
Spin: 10
Hardness: Soft-
Surface: control-elastic
Characteristics: DEF, DEF +, DEF –
DONIC-Technology: Classic Technology Rubbers
Technology: Very soft sponge, control-elastic topsheet.
Rubber Advice
Along with your choice of table tennis blade your choice of table tennis rubber determines the playing characteristics of your bat. There is a vast selection of table tennis rubbers available on the market and below are some of the factors that may be worth considering before choosing your table tennis rubbers
Reviews of Slice 40 CD
kayak nya menarik untuk di coba
herman | 2022-07-26 | 5 Stars
Topspin Sports - Sets you up for success
Professional Table Tennis Equipment Supplier