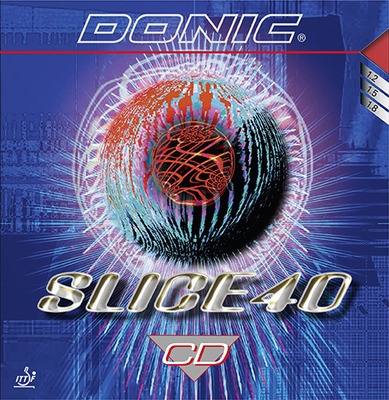 Speed
5-
Control
10
Spin
10++
Donic Slice 40 CD
At last a new option for the defender!
The Slice 40 CD has been especially produced for the modern defender / all-rounder. Developed for hard pushing and shopping it is also suitable for controlled top spin.
A very grippy and tacky top surface rubber enables the player to produce a high quality and quantity of top spin, causing problems to opponents. Defenders are presented with a new weapon and all-rounders a reliable partner with this new rubber.
Product Specs
Donic Slice 40 CD
Speed 5- Spin 10++ Control 10
Sponge thickness: 1.2/1.5/1.8
Surface: control-elastic
Recommended for the modern defender who wants a very gripy top surface for their backspin shots but also enough speed for counter topspin when the opportunity presents it self!
Rubber Advice
Along with your choice of table tennis blade your choice of table tennis rubber determines the playing characteristics of your bat. There is a vast selection of table tennis rubbers available on the market and below are some of the factors that may be worth considering before choosing your table tennis rubbers
Reviews of Slice 40 CD
We've not yet got any reviews of this product. Would you like to write one for us?
Topspin Sports - Sets you up for success
Professional Table Tennis Equipment Supplier