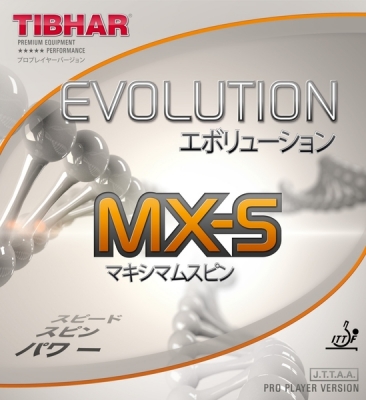 Speed
10++
Control
6+
Spin
10++
Tibhar Evolution - MX-S
Tibhar Evolution MX-S Table Tennis Rubber
Evolution rubbers are flagship products in TIBHAR's rubber range.
Evolution -S has a slightly softer top sheet. It provides players with increased ball feeling. The rubber gives increased potential for spinning the ball and exact placement.
Sponge hardness is similar to MX-P between 46 to 48 degrees hardness.
Product Specs
Tibhar Evolution MX-S Table Tennis Rubber
Category: Speed 10++ Spin 10++ Control 6+
Surface: Spin Elastic
Hardness: Hard
Recommended for attacking players that play with a lot of spin and precise ball placement.
Rubber Advice
Along with your choice of table tennis blade your choice of table tennis rubber determines the playing characteristics of your bat. There is a vast selection of table tennis rubbers available on the market and below are some of the factors that may be worth considering before choosing your table tennis rubbers
Reviews of Evolution - MX-S
We've not yet got any reviews of this product. Would you like to write one for us?
Topspin Sports - Sets you up for success
Professional Table Tennis Equipment Supplier