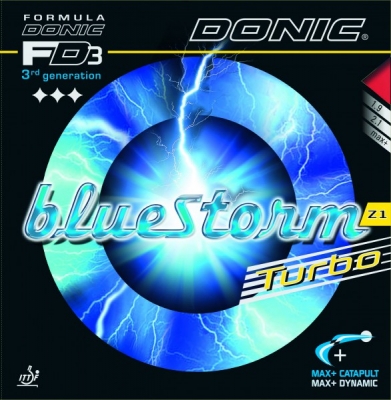 Speed
11
Control
6-
Spin
10+++
Donic Bluestorm Z1 Turbo
Technically strong, uncompromising attackers.
A powerhouse! The best dynamics in the Bluestorm series. A significantly thinner topsheet that is under a higher level of tension provides extra space for a thicker sponge, which allows for even more power. The thickest version is called max+ because it is
slightly thicker than the sponge used on the traditional Max versions. The Bluestorm offers highly dynamic properties that you really notice, along with excellent spin and speed.
Product Specs
Control: 6-
Speed: 11
Spin: 10+++
Hardness: Medium++
Surface: spin-elastic
Characteristics: OFF, OFF +
Technology: Pimpled rubber under a high level of tension on a dynamic blue sponge. The hardest sponge in the Bluestorm series with a hardness of 50°.
Rubber Advice
Along with your choice of table tennis blade your choice of table tennis rubber determines the playing characteristics of your bat. There is a vast selection of table tennis rubbers available on the market and below are some of the factors that may be worth considering before choosing your table tennis rubbers
Reviews of Bluestorm Z1 Turbo
We've not yet got any reviews of this product. Would you like to write one for us?
Topspin Sports - Sets you up for success
Professional Table Tennis Equipment Supplier