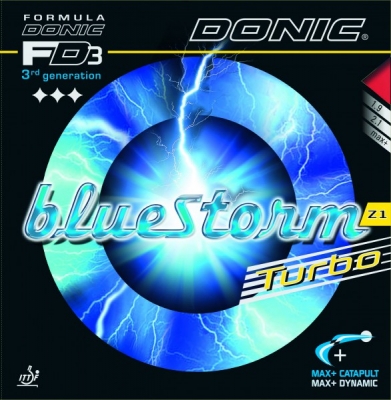 Speed
11
Control
6-
Spin
10+++
Donic Bluestorm Z1 Turbo
NEW Donic Bluestorm Z1 Turbo Table Tennis Rubber.
A comprehensively thinner top surface rubber, subjected to high tension, allows space for a thicker sponge resulting in extra power and speed.
The Bluestorm Z1 Turbo is the newest edition and fastest rubber in the series. The rubber has a 50° sponge and is therefore slightly harder than the standard Z1 and offers noticeably greater acceleration whilst retaining outstanding spin and speed.
Highly recommended for offensive spin orientated playe
Product Specs
Donic Bluestorm Z1 Turbo Table Tennis Rubber
Hardness - Medium ++
Control 6-
Speed 11
Spin 10+++
Rubber Sheet - Spin Elastic
Recommended for all out offensive players.
Rubber Advice
Along with your choice of table tennis blade your choice of table tennis rubber determines the playing characteristics of your bat. There is a vast selection of table tennis rubbers available on the market and below are some of the factors that may be worth considering before choosing your table tennis rubbers
Reviews of Bluestorm Z1 Turbo
We've not yet got any reviews of this product. Would you like to write one for us?
Topspin Sports - Sets you up for success
Professional Table Tennis Equipment Supplier