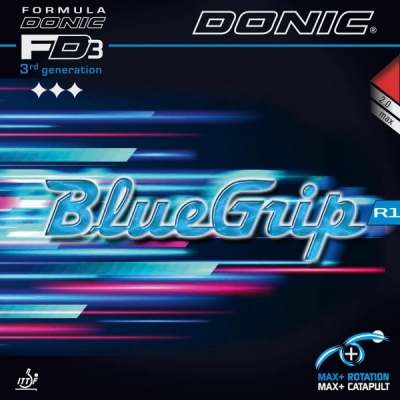 Speed
10+
Control
6
Spin
11+
Donic Bluegrip R1
Players that like to play with lots of spin and spinny serves. Long dwell time when making contact with the ball, softer playing feel and touch, excellent spin. The best of both worlds in one rubber: DONIC BlueGrip has a tacky, Chinese-style topsheet, along with a sponge with the catapult effect and incredible dynamic properties that we only see from rubbers from Japan or Germany. Tacky topsheet allows players to put maximum levels of spin on the ball, while the sponge ensures powerful topspins.
Product Specs
Control: 6
Speed: 10+
Spin: 11
Hardness: Hard –
Surface: sticky-elastic
Characteristics: OFF, OFF +, OFF –
Technology: Medium-pore sponge (50°), tacky topsheet.
Rubber Advice
Along with your choice of table tennis blade your choice of table tennis rubber determines the playing characteristics of your bat. There is a vast selection of table tennis rubbers available on the market and below are some of the factors that may be worth considering before choosing your table tennis rubbers
Reviews of Bluegrip R1
We've not yet got any reviews of this product. Would you like to write one for us?
Topspin Sports - Sets you up for success
Professional Table Tennis Equipment Supplier