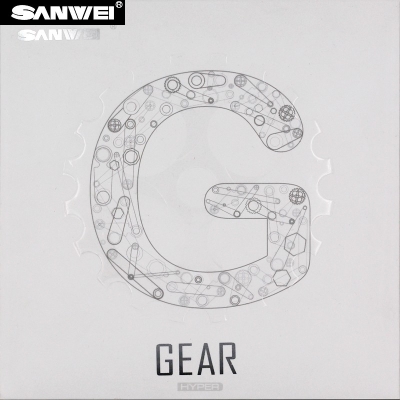 Speed
9
Control
8
Spin
10++
Sanwei Gear Hyper 38
Sanwei Gear Hyper 38 Table Tennis Rubber
The latest rubber development from Sanwei.
Just available in May 2020 the Gear Hyper is a combination of non-sticky top rubber sheet with medium hard mousse textured cake sponge.
The rubber top-sheet produces outstanding tension and spin qualities and the medium hard sponge assures firm and direct speed qualities.
Perfectly balanced rubber with enough speed and spin when attacking yet also great control when playing passively.
38 Degrees hardness.
Product Specs
Sanwei Gear Hyper 38 Table Tennis Rubber
Hardness: 38 degrees - Medium -
Control: 8
Speed: 9
Spin: 10++
Colour: Red or Black
Rubber sheet: Smooth, non-tacky
Recommend for controlled attacking players and counter attackers.
Rubber Advice
Along with your choice of table tennis blade your choice of table tennis rubber determines the playing characteristics of your bat. There is a vast selection of table tennis rubbers available on the market and below are some of the factors that may be worth considering before choosing your table tennis rubbers
Reviews of Gear Hyper 38
originally posted on table tennis daily https://www.tabletennisdaily.com/forum/showthread.php?22383-new-sanwei-rubber-first-look review i've gone through the testing period - putting in about 12 - 15 hours of playing time with it and tried it across three different types of blades. glue: 2 layers
the bat guy | 2020-05-10 | 5 Stars

gigi | 2021-01-02 | 5 Stars
Topspin Sports - Sets you up for success
Professional Table Tennis Equipment Supplier