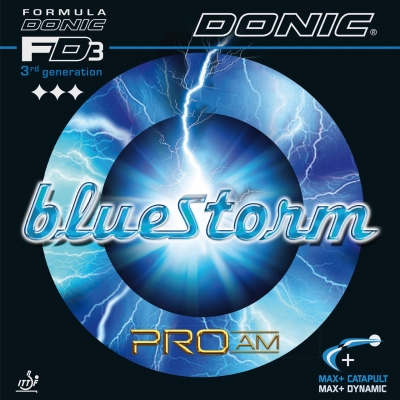 Speed
11-
Control
6
Spin
11+
Donic Bluestorm Pro AM
Donic Bluestorm Pro AM
Recommended for attackers and aggressive allrounders who appreciate the advantages of a top-quality professional class rubber sheet. Perfect balance between dynamism, control and rotation. This newly developed pimple rubber combination offers direct touch and excellent rebound. The sponge delivers an extremely good catapult effect. The most important recipe for success, however, is the make-up of the top surface rubber.
Product Specs
Control: 6
Speed: 11-
Spin: 11
Hardness: Medium +
Surface: spin-elastic
Characteristics: OFF, OFF +
DONIC-Technology: FD3 Technology, extreme catapult 47.5° sponge, top rubber sheet with excellent grip.
Rubber Advice
Along with your choice of table tennis blade your choice of table tennis rubber determines the playing characteristics of your bat. There is a vast selection of table tennis rubbers available on the market and below are some of the factors that may be worth considering before choosing your table tennis rubbers
Reviews of Bluestorm Pro AM
We've not yet got any reviews of this product. Would you like to write one for us?
Topspin Sports - Sets you up for success
Professional Table Tennis Equipment Supplier