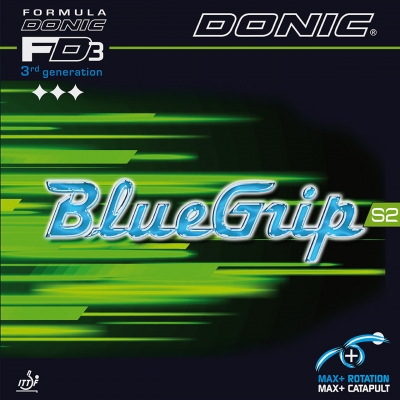 Speed
9+
Control
7-
Spin
11+
Donic Bluegrip S2
Donic Bluegrip S2 Rubber
Recommended for attackers who play with control. Allrounders as well as defenders who aim for a spinny and varied game. Extremely grippy and easy to control, enabling accurate attacking strokes with sufficient speed. The best of two worlds in one rubber: A sticky Chinese-style top sheet combined with a powerful sponge with strong catapult effect.
Now DONIC has taken this development even further and has added a new, softer version to the BLUEGRIP series.
On Sale
Save £17 off RRP!
Product Specs
Control: 7
Speed: 9+
Spin: 11
Hardness: Medium
Surface: sticky-elastic
Characteristics: AR +, OFF, OFF –
DONIC-Technology: FD3 Technology, dynamic, medium soft and medium pored sponge, sticky top sheet.
Rubber Advice
Along with your choice of table tennis blade your choice of table tennis rubber determines the playing characteristics of your bat. There is a vast selection of table tennis rubbers available on the market and below are some of the factors that may be worth considering before choosing your table tennis rubbers
Topspin Sports - Sets you up for success
Professional Table Tennis Equipment Supplier