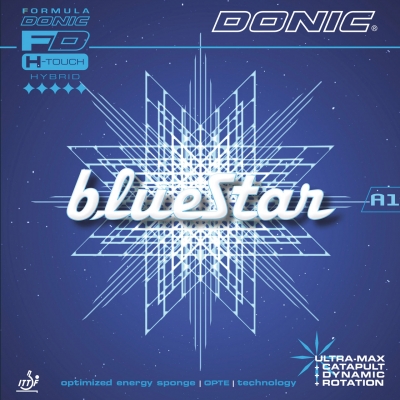 Speed
11++
Control
5+
Spin
11++
Donic BlueStar A1
BLUESTAR A1, the new star among DONIC rubber sheets. The secret of BLUESTAR lies in its rubber sponge, which is completely different. The developers have proudly called the underlying technology "Optimised Energy Sponge", OPTE for short. A small-pored sponge that sets new standards in terms of elasticity and dynanism due to its special composition. You can feel this technology instantly when playing. Fantastic catapult, speed and spin characteristics.
Product Specs
Donic Bluestar A1 Table Tennis Rubber
Speed: 11++
Spin: 11++
Control: 5+
Hardness: Hard - 52.5 ° sponge
Surface: spin-elastic
Technology: Professional table tennis rubber with OPTE sponge technology, extremely strong catapult, dynamic and fine-pored 52.5° sponge
Characteristics: OFF, OFF +, ultramax speed and spin properties.
First batch of rubbers arriving from Donic w/k 27/11. Hot off the press!
Rubber Advice
Along with your choice of table tennis blade your choice of table tennis rubber determines the playing characteristics of your bat. There is a vast selection of table tennis rubbers available on the market and below are some of the factors that may be worth considering before choosing your table tennis rubbers
Reviews of BlueStar A1
We've not yet got any reviews of this product. Would you like to write one for us?
Topspin Sports - Sets you up for success
Professional Table Tennis Equipment Supplier