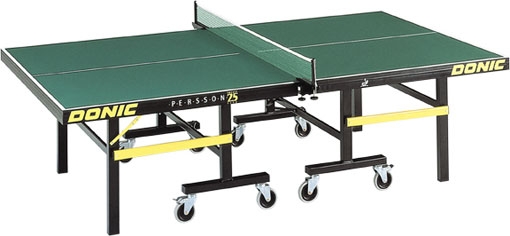 Donic Persson 25
Donic Persson 25 Table Tennis Table
DONIC have developed a 25 mm high- quality top, which provides better contact between ball and table. Both table halves have a separate stable automatic undercarriage. Minimum storage dimensions because of a special folding mechanism. ITTF approved.
Please note that we are unable to ship tables outside of the United Kingdom.
Product Specs
Donic Persson 25 Table Tennis Table
Compact design - table comes in 2 separate halves.
Comfortable handling and long-lasting construction. 25 mm top ITTF approved top.
Space saving design.
Measurements: 1600 x 1620 x 630 mm.
Frame: 50 x 20 mm. Legs: 60 x 40 mm, metal parts epoxy lacquered or galvanized.
Weight: about 120 kgs.
Some assembly required
Table Buyers Guide
There is a wide selection of table tennis tables available and as buying a table tennis table is likely to be one of your most expensive table tennis equipment purchases we've included some information to hopefully help in your choice of table tennis table here.
Topspin Sports - Sets you up for success
Professional Table Tennis Equipment Supplier