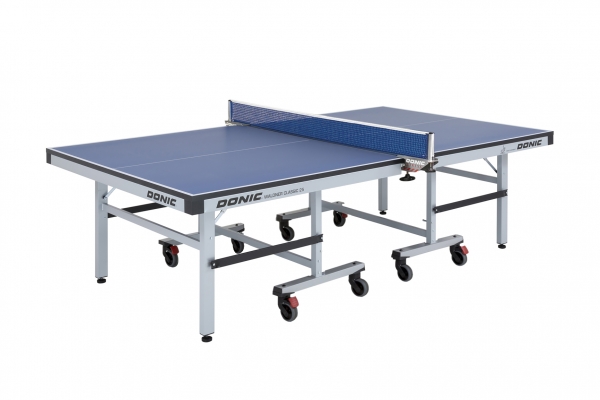 Donic Waldner Classic 25
Donic Waldner Classic 25 Table Tennis Table
ITTF approved competition table with 25 mm top for a perfect bounce of the ball. Both table halves have a separate stable automatic undercarriage and a safety locking system. Comes with Donic ITTF Approved DONIC Clip Net.
Please note that we are unable to ship tables outside of the United Kingdom.
Product Specs
Donic Waldner Classic 25 Table
Top: 25mm in green or blue coated with improved lacquer, ITTF approved.
Frame: 60mm, Legs: 40 x 40 mm, height adjustable. Undercarriage: 40 x 40 mm, easy movable wheels:100 mm with brake.
Safety locking system.
Delivery: partly assembled in carton
Weight: 124 kg (gross)
Storage dimensions: 152,5 x 60 x 172 cm - (two tables only about 90 cm width)
Made in Germany.
Table Buyers Guide
There is a wide selection of table tennis tables available and as buying a table tennis table is likely to be one of your most expensive table tennis equipment purchases we've included some information to hopefully help in your choice of table tennis table here.
Reviews of Waldner Classic 25
mi puoi dire se il prezzo! e ancora scontato
gaetano savoca | 2018-01-04 | 5 Stars
Topspin Sports - Sets you up for success
Professional Table Tennis Equipment Supplier