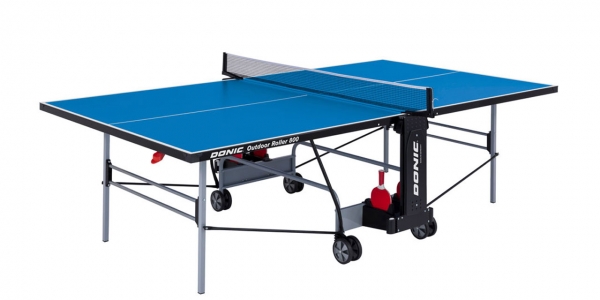 Donic Outdoor Roller 800
Donic Outdoor Roller 800 Table Tennis Table
Solid, outdoor table with compact technology. Very easy to handle due to the safety locking system. 5 mm weatherproof melamine resin top. Legs strengthened by 2 metal supports at the front. Fixed net and post set as well as storage place for bats and balls. Big 128 mm rubber wheels provide stability and easy manoeuvrability even on uneven ground. Playback option so you can play by yourself!
Please note that we are unable to ship tables outside of the United Kingdom.
Product Specs
Donic Outdoor Roller 800 Table Tennis Table
Storage dimensions: 152,5 x 69 x 163 mm
Weight: approx. 60 kg
Safety Norm: EN 14468
Delivery: partly assembled
Made in Germany
Without bats and balls!
Table Buyers Guide
There is a wide selection of table tennis tables available and as buying a table tennis table is likely to be one of your most expensive table tennis equipment purchases we've included some information to hopefully help in your choice of table tennis table here.
Reviews of Outdoor Roller 800
Topspin Sports - Sets you up for success
Professional Table Tennis Equipment Supplier