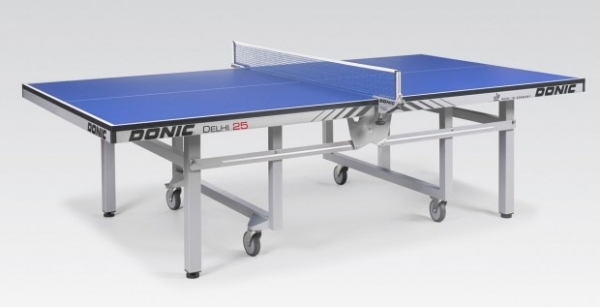 Donic Delhi 25
The DONIC DELHI 25 table has been the benchmark for class and reliability. Official table of 2012 European Championships. Strong folding legs and redesigned wheel fittings create a stable base and undercarriage and good looks. The silver metallic carriage and frame, with high stability and long lasting qualities, give a modern look. Also new to this design are the safety measures during play and storage. A new locking mechanism automatically ensures safety and stability when playing.
Please note that we are unable to ship tables outside of the United Kingdom.
Product Specs
To ensure perfect play and bounce a 25 mm strong top surface has been fitted to the DELHI 25 table. The table is delivered ready for immediate use. The weight bearing legs are made of galvanised steel. Tubing welded to 50 x 50 silver galvanised crossbars. Included is a gadget to adjust the height of the table. Undercarriage, the weight bearing leg is of galvanised steel tubing 50 x 50 mm, welded to a 50 x 50 crossbar. Suitable for wheelchair use. Storage dimensions: 1525 x 1600 x 470 mm
Table Buyers Guide
There is a wide selection of table tennis tables available and as buying a table tennis table is likely to be one of your most expensive table tennis equipment purchases we've included some information to hopefully help in your choice of table tennis table here.
Reviews of Delhi 25
superb table that plays really well. bought it for our club to replace a very old wooden table. we had two donic formula sc tables bought seven years ago, so are used to the style. this new design and improved playing surface is ideal for club league play. easier to move table with larger wheels.
rob searle | 2014-08-18 | 5 Stars
Topspin Sports - Sets you up for success
Professional Table Tennis Equipment Supplier